Bryn Mawr was attacked by the most vicious and terrible of all monsters this week… ICE.
 When Punxsuntawney Phil blessed the wonderful east coast with six more weeks of winter I was just as pleased as the the next person. I mean what other Southern California native wouldn't pleased to continue the marathon of temperatures below 20 degrees? ( I really hope you can detect my sarcasm).
During the welcoming of more winter Mother Nature attacked Bryn Mawr with snow and ice storms toppling over trees, knocking out power lines, and best of all canceling class for about a week. (YIKES.) In lieu of the snow storm, and the ice storm that followed, my friends and I decided to label our hardship #BMCblackout. Through our "witty" banter we depicted the epitome first world problems and tech-addicted college kids going through Wi-Fi cleanse. If you want to see some of the destruction and dangers check out my fabulous photos below.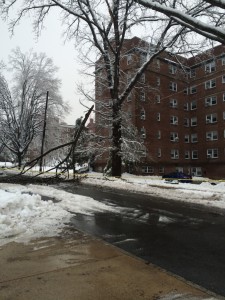 But beyond all the humor I really do want to give a big thanks to all of people with Facilities, Dining Services, and Public Safety for doing their best to try and keep the campus up and running and above all safe for the students.
Stay warm!
To be continued…